Sep 15, 2023
Checkpoint Property Screening System achieves TSA Qualified Products List in the U.S.
Scarabee Aviation Group's Checkpoint Property Screening System (CPSS) achieves the Transportation Security Administration's Qualified Products List Approval for use in US Airport Security Screening and will be manufactured in the U.S.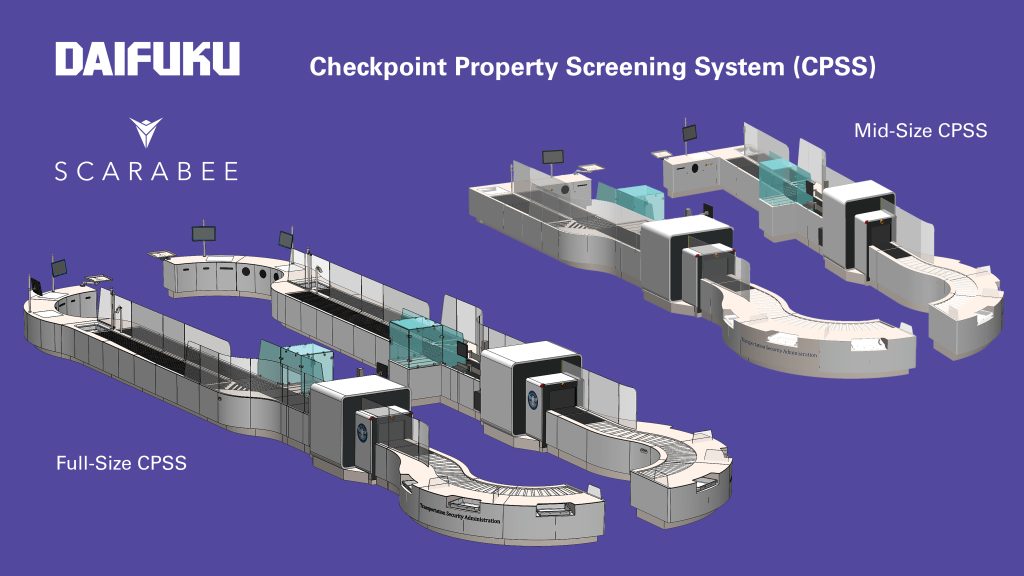 Scarabee's Checkpoint Property Screening System (CPSS) Mid-size and Full-size solutions have successfully completed the TSA's Qualification process and meet stringent performance requirements for use in airport security screening operations.
Hoofddorp, the Netherlands September 2023 – Scarabee Aviation Group, a Daifuku Group company and a leading global provider of innovative aviation solutions and services, confirmed that its Mid-size and Full-size CPSS solutions have been approved for the TSA Qualified Products List (QPL) and Acceptable Capabilities List (ACL) to allow the TSA and its airport and airline stakeholders to procure and deploy to TSA security screening facilities.
"We are delighted that our CPSS solutions have achieved this tremendous milestone," said Robin Maycock, Scarabee's Chief Technical Officer. "Working with our partner, Smiths Detection, we look forward to delivering increased security capabilities of Smiths' advanced CT technology and the improved screening efficiencies and passenger security experience our smart security lane solutions can deliver to TSA checkpoints nationwide. In addition to TSA QPL approval, Scarabee's CPSS solutions are now eligible for purchase by TSA's airline and airport partners through the TSA Capability Acceptance Program (CAP)."
"Daifuku North America is proud to work with one of the newest members of the Daifuku family to manufacture Scarabee's CPSS solutions in the United States," announced Todd Alderman, President of Jervis B. Webb Company, a Daifuku Group Company. "Leveraging our certified quality processes, and experienced manufacturing resources at both our Michigan and Kentucky facilities, CPSS solutions for US airport checkpoints produced here in the US augments the capable teams in the Netherlands and ensures timely and cost-effective delivery of solutions."
Scarabee's CPSS Solutions integrates Smiths Detection HI-SCAN 6040 CTiX checkpoint CT scanner, which produces high-resolution 3D images to screen airport passengers' carry-on baggage and belongings and allows electronics and liquids to remain in bags. Smiths' CT technology, when combined with Scarabee's smart security screening lane design and features, seeks to facilitate higher passenger throughput by automating and optimizing screening operations.
About Scarabee Aviation Group
Scarabee Aviation Group, headquartered in Hoofddorp, the Netherlands, with manufacturing in the US and the Netherlands, has delivered innovative products to enhance security, improve efficiency and technology solutions to support a differentiated and improved passenger experience for more than 25 years. From its award-winning Smart Security Lanes to its innovative self-service BagDrop® and check-in solutions, Scarabee and its partners deliver high-value, innovative capabilities to airlines, airports, and security operators worldwide. Scarabee's Smart Security Screening Lanes are deployed in the US at San Francisco International Airport, Houston Bush Intercontinental Airport, and Denver International Airport. They are also deployed internationally at Amsterdam Schiphol Airport, Munich Airport, Bristol Airport, New Chitose Airport, and Taiwan's Taoyuan Airport.
About Daifuku Co., Ltd.
Scarabee is a subsidiary of Daifuku Co., Ltd.,  (www.daifuku.com), the world's leading provider of material handling systems to the manufacturing and distribution, cleanroom, automotive, airport, and general industry markets and is headquartered in Osaka, Japan, with production and sales bases in 25 countries.
####
Contact:
Scarabee Aviation Group
Robin Maycock
Phone: +31 85 7608620
Newsletter
Never miss an article
Subscribe to our newsletter and be the first in the know.