Nov 07, 2023
Scarabee's Checkpoint Property Screening System to be deployed at DEN
Scarabee's Checkpoint Property Screening System (CPSS) solution is being deployed to support efficient security screening operations at Denver International Airport's new Great Hall security checkpoint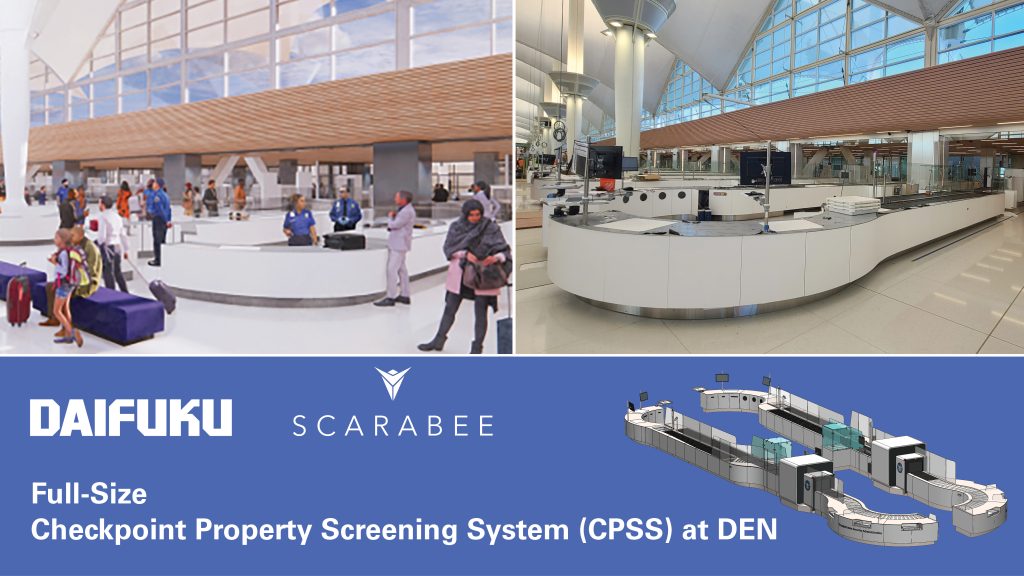 Hoofddorp, the Netherlands, October 2023 – Scarabee Aviation Group, a division of Daifuku Co., Ltd. and a leading global provider of innovative aviation solutions and services, is pleased to announce that it has been awarded a contract to provide Denver International Airport (DEN) with 17 Full-size Transportation Security Administration (TSA) qualified Checkpoint Property Screening System (CPSS) lanes. These screening lanes will be installed as part of the Great Hall Project in the Jeppesen Terminal on the west side of Level 6.
"Scarabee is thrilled to have been chosen by DEN to contribute to the transformation of passenger security screening at the airport," said Robin Maycock, Scarabee's Chief Technology Officer. "Our CPSS solutions will upgrade and expand passenger security screening with advanced 3-D computed tomography (CT) X-ray scanning technology and will improve the DEN passengers' screening experience with our automated screening lanes".
"Every lane of the new Great Hall checkpoint, equipped with Scarabee's CPSS solution, will add critical capacity to optimize security screening and will improve the DEN passenger experience by allowing passengers to leave their laptops and electronics in their carry-on baggage", said Garrett Kelly.
Scarabee's CPSS Full-size and Mid-size solutions are on TSA's Qualified Products List (QPL) and include Smith Detection's HI-SCAN 6040 CTiX checkpoint CT X-ray scanner which produces high-resolution 3D images for screening airport passengers' carry-on baggage and belongings and allows electronics to remain in bags, reducing passenger divestment requirements. Scarabee's passenger-friendly screening lane design features automation that further optimizes and adds capacity to airport security screening operations.
About Scarabee:
Scarabee Aviation Group, headquartered in Hoofddorp, the Netherlands, with manufacturing in the Netherlands and the U.S., has delivered innovative products to enhance security, improve efficiency, and deliver differentiated and improved passenger experiences for over 25 years. From its award-winning Smart Security Lanes to its innovative self-service BagDrop® and check-in solutions, Scarabee and its partners deliver high-value innovative capabilities to air carriers, airports, operators, and stakeholders. Scarabee Smart Security Screening Lanes and BagDrop solutions are deployed at Schiphol Airport, Bristol Airport, Munich Airport, and Taiwan's Taoyuan Airport. They are also deployed in the U.S. at San Francisco International Airport, Houston Bush Intercontinental Airport, and Denver International Airport. Scarabee lanes are known as Smart Security Lanes outside of the U.S., and Checkpoint Property Screening System (CPSS) Lanes and Automated Screening Lanes (ASL), within the U.S.
About Daifuku Co., Ltd.
Scarabee is a part of Daifuku Co., Ltd. (www.daifuku.com), the world's leading provider of material handling systems to the manufacturing and distribution, cleanroom, automotive, airport, and general industry markets, is headquartered in Osaka, Japan, with a global network in 25 countries and regions.
####
Contact:
Scarabee Aviation Group
Robin Maycock
Phone: +31 85 7608620
Newsletter
Never miss an article
Subscribe to our newsletter and be the first in the know.